Posted under:
General
Posted on: August 7, 2020
Are Dental Implants Right for You?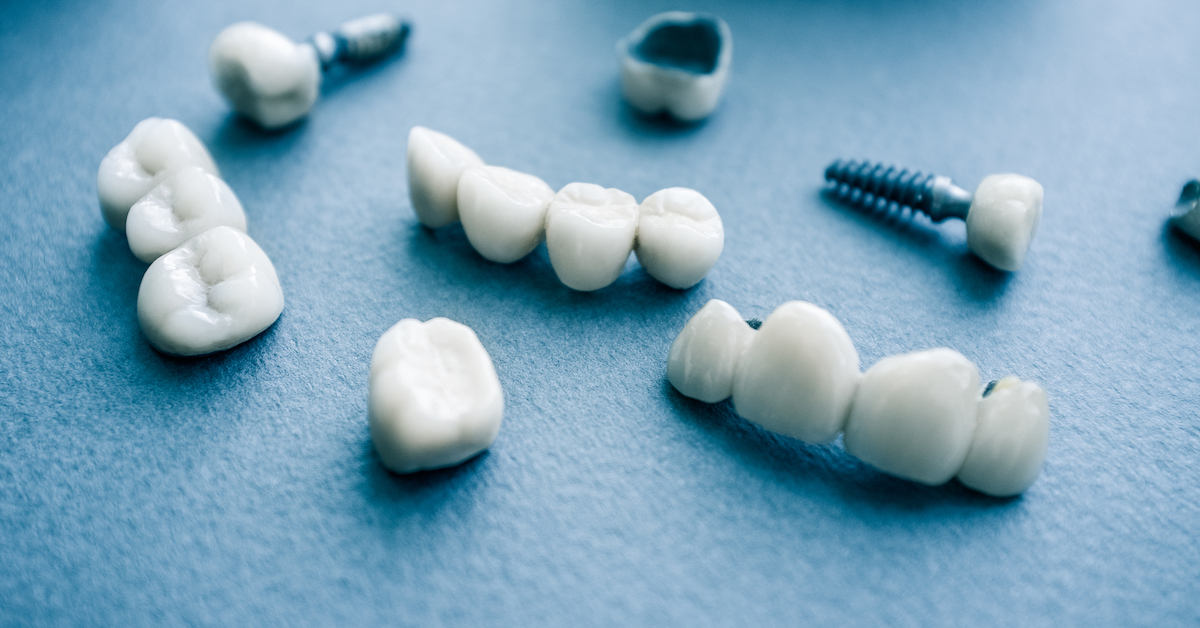 What to Know About Dental Implants
Dental implants provide a strong foundation for missing teeth, and they fit, function, and feel just like your natural teeth. They are essentially an artificial tooth root and act as an orthodontic anchor for a crown, denture, or implant-supported bridge once the implant fuses to the jawbone. The implant is made of titanium and is fully compatible with the body, making them a safe and reliable option for tooth loss.
Endosteal and subperiosteal are the only two types of dental implants currently approved. Endosteal implants are embedded into the jawbone and are the most frequently used type. Subperiosteal implants are used less often and are attached on top of the jawbone, below the gumline.
Dental implants are composed of three separate parts:
The implant itself, also called the post or body of the implant, is made of titanium and is surgically attached to the jawbone. It has a screw-like appearance and functions as a foundation for the dental crown or other restoration.
The abutment is the component that fits over the body of the implant, slightly protruding from the gum tissue. It functions as a support system for the crown or other dental restoration.
The crown is the final part and is fitted onto the abutment. To ensure a natural appearance, the crown is customized so it's an exact match to your real teeth.
What Happens During a Dental Implant Procedure?
The entire dental implant process is very lengthy and can take several months to complete. The surgery is performed in stages so that the jawbone and gums heal completely. You'll receive anesthesia during the surgery, which is an outpatient procedure.
Our dentists begin the implant process with a consultation, which includes a complete dental exam and X-rays. This helps to determine if you're a candidate for dental implants. You'll learn more about the options available to you and be given a detailed treatment plan. If you have any unhealthy or damaged teeth, they will be extracted before proceeding.
If a bone graft is needed, it will likely be performed shortly after removing any damaged teeth. A solid base is needed to support the implant, which is why a bone graft is an important step. After receiving a bone graft, several months of healing time are needed.
Once the jawbone heals, the process of placing the implant can begin. An incision is made in the gum tissue and holes are drilled to create space for the implant. After the titanium implant is inserted into the bone, the incision is stitched closed. An important component of the healing process is called osseointegration. This occurs when the implant fully fuses with the jawbone, which happens over several months.
Once the area has completely healed, the abutment is attached to the implant during the next appointment. This will take a few weeks to heal, and then you'll return to the office so a mold of your mouth can be taken. This is what a dental laboratory uses to create your customized crown. The final step involves attaching the dental crown to the abutment.
When Is Bone Grafting Necessary for Dental Implants?
A bone graft isn't usually necessary for patients who have healthy gums and a strong jawbone with no evidence of bone loss. Those who have experienced bone loss in the jaw may still be able to receive dental implants after receiving a bone graft. This procedure can greatly increase the likelihood of successful placement of the implant by increasing the density and thickness of the jawbone.
There are several different types of materials used for bone grafts, such as bone used from your own body, a compatible synthetic material that encourages the growth of new bone tissue, and synthetic, or manmade materials. The recovery time will vary depending on the type of bone graft you receive. Minor bone grafts may be completed on the same day as your dental implant surgery, but extensive bone grafts usually require several months of healing time.
After Dental Implant Surgery
Minor pain and discomfort are common side effects of dental implant surgery. Facial swelling and bruising, pain at the injection site, and minor bleeding are also normal symptoms. These symptoms will typically subside after a week, but if they don't, we encourage you to call our office.
Applying a cold pack to the facial area can help to reduce swelling, and your dentist or oral surgeon may prescribe pain medicine or recommend an over-the-counter pain reliever. You'll also need to follow a soft diet for a specified period of time.
Top Advantages of Dental Implants
Unlike dentures, dental implants will never slide out of place and make chewing difficult, so you can continue to eat all of your favorite foods. Here are other benefits of dental implants to consider:
Natural appearance
Excellent success rate
Easy to take care of with daily brushing and flossing
Improved ability to speak clearly
Ability to preserve bone and prevent future bone loss
Improved oral health
Comfort
Durability
What Are the Drawbacks of Dental Implants?
Although dental implants are extremely durable and designed to last a lifetime, it's possible for the dental crown to need replacement at some point, which may not be covered by dental insurance. These are some other disadvantages of dental implants:
High cost
The procedure may not be covered by insurance
Lengthy process with many steps involved
Risks associated with anesthesia and surgery
There are many options for replacing missing teeth, but with dental implants, you can improve the functionality of your teeth while also restoring the look of your smile. Our caring staff will take the time to explain the dental implants procedure and answer any questions you might have. If you're ready to learn more about how you can benefit from dental implants, make your appointment today.