Posted under:
General
Posted on: November 17, 2020
Invisalign: Frequently Asked Questions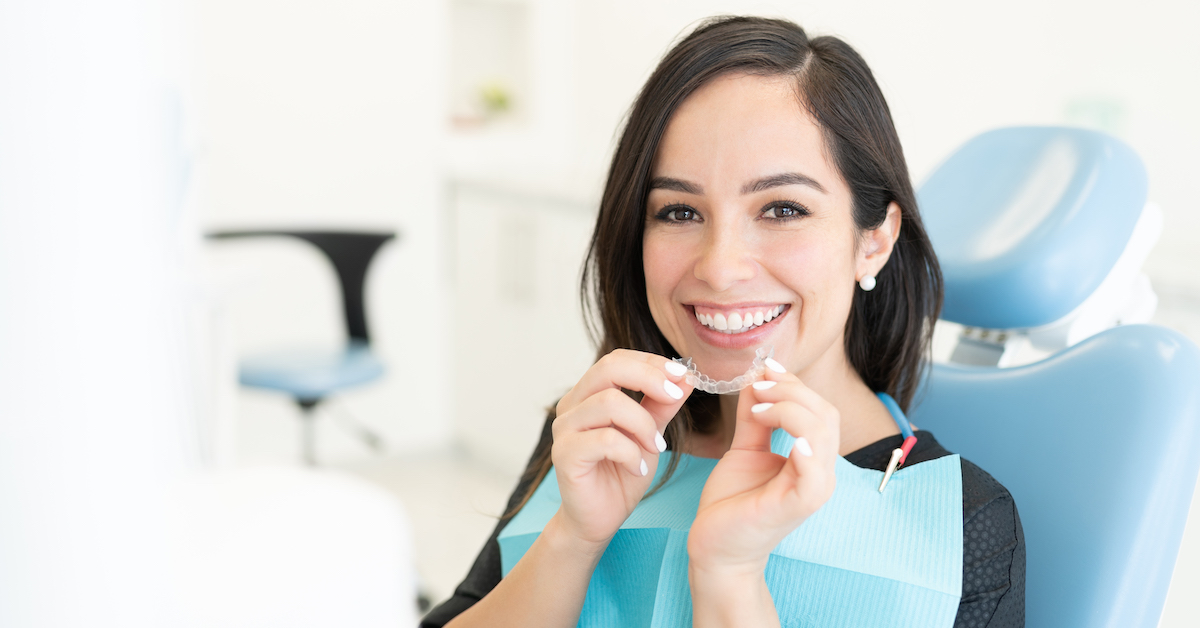 When your smile reminds you more of a grimace because of your misaligned and crooked teeth, then you might be a good candidate for the Invisalign system of aligner trays. The Invisalign trays can provide you with the beautifully straight and even teeth that are the first step in achieving a beautiful smile. They slip over your teeth and are custom-fit to the shape and alignment of your teeth. Then, they gently encourage your teeth into the proper alignment. If you'd like more information or to schedule a consultation, then call our office for an appointment.
What Type of Braces Are Used for Invisalign?
Rather than the typical metal wire-and-bracket braces of the past, the Invisalign system uses clear plastic aligner trays to gradually move your teeth into alignment. The trays are made of SmartTrack®, which is a modern thermoplastic that contains no BPA, BPS, gluten, or latex. It's extremely thin, so your trays will fit snugly onto your teeth. It's also very elastic, so when you place the trays on your teeth, there's a very gentle pressure that encourages them to move into the correct alignment.
The Invisalign system was the brainchild of four Stanford students in the late 1990s, and legend has it that they wore the trays throughout their sales presentation to investors. At the end of their presentation, they removed the trays, and the potential investors were sold on the product because they were unaware that the students were wearing the trays. One of the most attractive features of the trays is their invisibility. Especially from a distance, it's impossible to tell that you're wearing the trays, unlike traditional metal braces or some other types.
Will the Invisalign System Work Well for Everyone?
Although most people are good candidates for the Invisalign trays, there are some exceptions, such as the following individuals:
Those who smoke. Nicotine is bad for the aligner trays.
Children or young teens whose teeth and jaws are still developing.
Those who lack the dexterity to remove, clean, and replace their trays daily.
Those who aren't dedicated to wearing their aligner trays the required 20 to 22 hours each day.
Those who don't care about the invisibility of their braces.
Those who have complex orthodontic issues.
Most people, however, can wear the trays. They're one of the most popular types of braces, particularly among more mature adults who are attracted to the invisibility factor of the trays.
Where Do I Get Screened for the Invisalign System?
If you're interested in the Invisalign system of aligner trays, your Invisalign dentist or orthodontist is the best place to start. Dental professionals who want to offer Invisalign to their patients must be trained in the procedures, so make sure that your dental professional offers genuine Invisalign products.
When you come to the office for your initial appointment, we thoroughly examine your teeth and jaws to ensure that Invisalign is appropriate for your orthodontic issues. If you and your dentist decide that Invisalign will work for you, then we'll put together a treatment plan for you so that you'll know what to expect throughout your procedure. Then we'll make an impression of your teeth and gums, and we'll use that to fabricate your aligner trays.
You'll receive replacement trays every one to two weeks, and you'll need to come to our office for a progress check every four to six weeks. By the time of your first progress check, you'll probably notice an improvement in your tooth alignment. A treatment regimen usually takes between 12 and 18 months, depending on the amount of alignment you need and your dedication to wearing your trays.
What's Involved in Getting Invisalign Trays?
You'll need to come to our office for your initial evaluation and your first set of trays. Thereafter, you'll receive your replacement trays in the mail or through a delivery service. You'll only need to return to our office for your periodic checkups, but by the date of your first progress checkup, you should notice an improvement in your smile.
Will the Invisalign Trays Impact My Daily Routine?
Your daily lifestyle routine shouldn't be adversely impacted by your trays. You can live your life normally with only a few minor adjustments, including:
Don't smoke.
Be assiduous in your oral hygiene routine. Remove your trays when eating or drinking, and be sure to brush and floss before you replace them in your mouth. Food particles can cause decay and gum disease to start, which will damage your trays and extend the time needed to complete your treatment regimen.
Be sure to wear your trays for a minimum of 20 hours daily. The trays won't work if you don't wear them.
You shouldn't experience anything but perhaps a slight pressure when you first install new trays. This is normal and is the result of the trays gently reshaping your tooth alignment. You may need a day or two at first to get accustomed to the feel of the trays in your mouth, but after that, they should be virtually unnoticeable. They won't affect your speech because they fit so snugly on your teeth, and they won't fall out for the same reason. Any discomfort from the aligner trays is considerably less than you'd experience with the traditional metal braces.
Are the Invisalign Trays Really Invisible?
The short answer is yes. Although someone who is in very close physical proximity to you might notice that you're wearing them, anyone who is within a normal social distance or farther away shouldn't notice them. They are considerably less noticeable than any other type of braces currently available. Since people usually see what they expect to see, many may not notice that you're wearing the trays.
What's Next After I Complete My Invisalign Treatment?
After you've completed your Invisalign treatment, then your Invisalign dentist may recommend that you wear a retainer for a while. Usually, a retainer is worn for less than a year. It's worn only at night, but it helps keep the teeth from reverting to their previous state, so it's important to wear the retainer if your dentist recommends it. Your dentist will advise you if a retainer is necessary for you.
Which Dentists Near Me Offer Invisalign?
Only dentists and orthodontists who have completed the training mandated by Invisalign can provide genuine Invisalign products. If you're interested in the Invisalign aligner trays, then call Dental Associates of Florida at and schedule a consultation. Our dentists can provide genuine Invisalign aligner trays to help you achieve the beautiful smile you've always wanted, so call us today for an appointment. You'll be glad you made the call.