General Dentist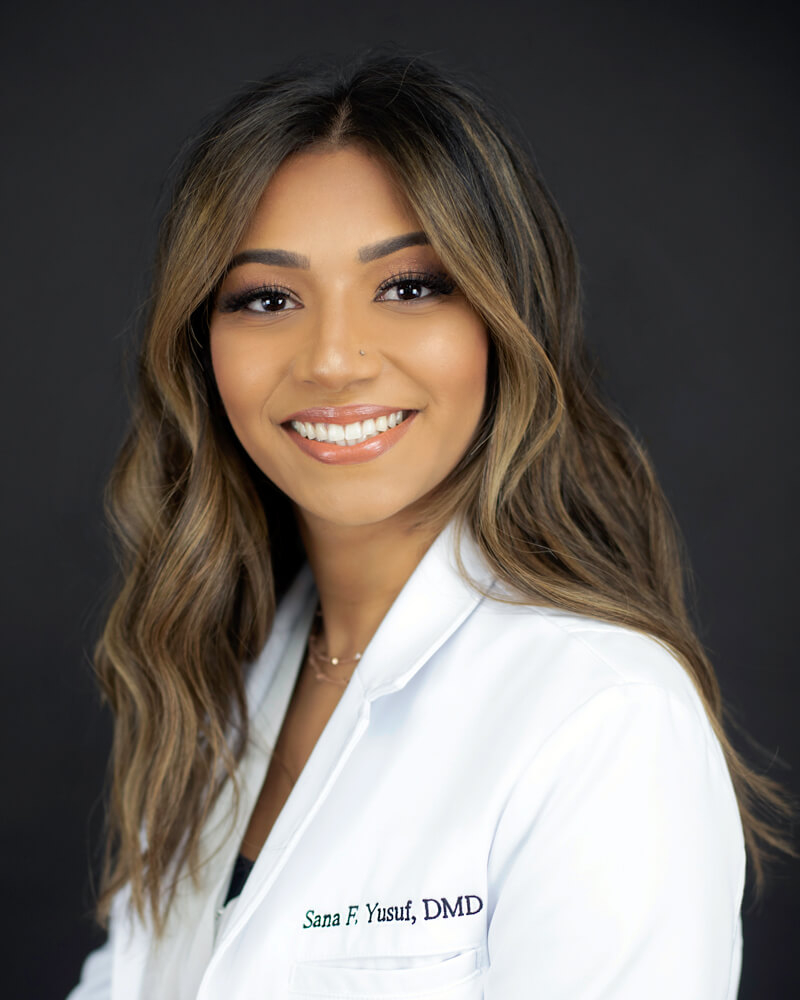 Dr. Sana Yusuf is a dedicated general dentist with an extensive dental and military background. She graduated summa cum laude with a Bachelor of Science in Biology degree from University of Detroit Mercy, Detroit, MI. Dr. Yusuf continued her education at Midwestern University College of Dental Medicine, Downers Grove, IL, where she earned her Doctor of Dental Medicine degree. After earning her dental degree, Dr. Yusuf joined the United States Army, as an Active Duty Captain, working as a general dentist. Now a United States Army Veteran, Dr. Yusuf is an honored recipient of the Army Commendation Medal.
Emily Souza, RDH
Hygienist
Book Online Now
Complete the form below to book your appointment today.
Office Hours
Monday

7:00 AM – 5:00 PM

Tuesday

7:00 AM – 5:00 PM

Wednesday

7:00 AM – 5:00 PM

Thursday

7:00 AM – 5:00 PM

Friday

8:00 AM – 5:00 PM
CareCredit
CareCredit is a healthcare credit card designed for your health and wellness needs. Pay for the costs of many treatments and procedures through convenient monthly payments.
Our patients leave smiling


The best Dental care I've ever experienced. Dr. Relkin and staff are caring and experienced.

Robert F.



Can we say my husband and I love Vickie Ashe, my long time dental hygienist, she is the best! Patient and effective, explains everything clearly. You have a wonderful and dedicated employee in her!!! To be honest, we still come mostly for her! :) Terry and Jessica have always been so patient and helpful too!

R R.



Very happy with the friendliness and well organized staff

Melinda P.



Dr. Relkin is highly competent, personable, and was easy to discuss my dental situation with. She gave me all of my options and explained the procedures, answering my questions with answers I could understand. The staff are friendly and my dental assistant (I'm not sure of her name) was helpful in reviewing my dental procedures and choices. She also answered questions that were posed to her.…

Christine V.



Quick and friendly staff on time with my appointment

Paul L.



very friendly staff.

Mark S.



I've only ever had two dentists in my life that I would recommend to others and this is one of them. The staff and assistants are top-notch and friendly.

Robert F.



Fabulous dental office. Very professional, most friendly, most modern equipment and best customer service ever! Asha, Marieka,Vickie and Dr. Relkin made my chk up, crown fitting, cleaning and filling the best dental experience ever. Terrie and Jessica's welcoming smile made my day. Been to a few dental offices, this one by far the best. Nick.

Baraka K.



The nice staff. Patient and knowledge of staff and dentist.

Martha S.



Friendly office staff, excellent dental care. I had a tooth break suddenly, and they were able to see me the next day.

Kristen D.



These people are amazingly friendly and professional. Dr. Relkin has a gentle touch, and communicates with the patient like no Dentist I can recall. The Dental Hygienist I've known a really long time and makes my cleaning visits a pleasant experience.

Robert F.



Staff is very friendly and patient with the patients. Knowledgeable and keeps wait time to a minimum.

Julie R.



The kind and pleasant manner in which Dr. Emily Relkin and her two assistants treated me.

Charles C.



I am a long time patient. Everyone is friendly. The quality of care is unmatched.

Keith S.



Dr. Relkin does amazing work (she has done 3 crowns for me), and the staff there is always genuinely nice.

Whitney M.



Everyone is very careful in the jobs that they are doing. The dentist, Dr. Relkin, is very nice and seems very competent.

Paula C.



Friendly, convenient location, great cleaning, none scary doctor.

Cynthia S.



Dr. Relkin and her staff took the time to make sure that I was comfortable and that this experience was as pain free as possible. Thank you for restoring my dignity with a beautiful smile.

Karen B.



Early appointments, no wait time, great dental care, personable hygienist.

Sharon L.



Very friendly and helpful. Takes time to explain procedures so that I understand what to expect.

Julie R.



I find your Dental Office to be the most efficient, courteous and expedient service available. And the staff is so friendly and call you by name. I love Dental Assoc.

Vedonna W.



Excellence in everything!

Noel W.



Son atentos muy profecionales i me siento alegre y hemocinada con el trabajo de ellos

Mirta P.



Me gusta porque son bien resposables y muy atentos a los pacientes y sobre todo son puntuales a la hora de la cita. Los medicos y secretarias bien carinosos y bien amables por eso me encsanta y se la recomiendo a todo el mundo

Mirta P.



Excellent results and excellent service

Sharon H.



Dr. Relkin and her staff was so nice and made me feel right at home.

Idenica S.



Dr. Relkin office and her staff is the best dental office that I have ever been too.

Kevin Y.



Dr. Relkin is wonderful. So happy she if my dentist. Had two crowns replaced and one new one. Excellent job. All the staff is great – especially my hygienist Vicki.

Sharon H.



Very accommodating to short notice rescheduling.

Brian B.



Friendly and prompt service.

Clayborn M.



Good customer service and profesionalism.

Dalma L.



I like the dentist and I appreciate her willingness to work with me as I adjust to my partials. The staff is friendly and I like the way the hygenist cleans my teeth.

Mary O.



Excellent staff

Roberto R.



First class. Good people.

Lisa S.



Staff is courteous, professional and caring.

Helen K.



Very caring.

Kathleen B.



I HAVE BEEN COMING THERE FOR OVER 30 YEARS AND I JUST THINK EVERYONE IS WONDERFUL., VERY HELPFUL AND GREAT TO BE AROUND. OF COURSE VIKKI IS MY FAVORITE, SHE IS A VERY NICE YOUNG LADY AND HAS ALWAYS BEEN GOOD TO ME.

Annie J.



Excellent and helpful staff

Roberto R.



You do good work

Robert Y.



Great results and even greater people!

Steve E.



The staff is always friendly and professional.

Gina D.



Good outcomes with past service and every confidence that will continue when I have to have two old crowns replaced in September.

Sharon H.



Treatment wasn't hurtful. The hygienist was very gentle and understood how I felt about pain

Lilian T.



The staff is great. The dentist is very good at her job

Rebecca M.



Friendly knowledgeable staff. On time appointments.

Melissa S.



Every one in the office is very friendly and professional. Vicky is the BEST!!!! She is the number one reason i keep coming back.

Deborah T.



Dentist was very nice and gentle

Lilian T.



Staff very friendly and professional, Dr. made visit very comfortable

Mike P.



The dentist as well as the staff are just wonderful!!!!

Teresita M.



Good service. Pleasant people.

Charles S.



Professional and courteous staff. Didn't over sell.

Kenneth T.



Dr. Relkin and her staff are super friendly. I had a crown treatment and my tooth looks new now! Such a great work!!

Mariana E.



This dentist & her staff are wonderful! From moment you walk in door, you are greeted & welcome to when you walk out. Dentist wants your teeth to be the Best they can be!

Bernadette S.



I cannot believe how happy people are in Dr. Mueller's office. It is so nice to see everyone with a smile on their face and being genuinely concerned about you, not just your teeth. Dr. Mueller is gentle and kind. He doesn't try to "push" things on you. He lets you know what is going on with your teeth, and only urges something if seems to be of the urgent nature.

Susan A.



Went in for a tooth cleaning 1 1/2 yrs. late. needed 2 crowns removed, temps made and some gum work done. Got it all done in one sitting. Dr. and staff very professional and office equipment is high tech. Mario

Mario R.



Dr. Mueller is great and his staff is professional.

Parker S.



The staff is amazing! Dr.Mueller is awesome! I love this place!

Danielle B.



Dr. Mueller and his staff are amazing. The staff always has friendly smiling faces in person and on the phone. All of my appointments have always started on time with quick and excellent services from Dr. Mueller. Dr. Mueller has offered me more options for me dental needs at affordable prices. I highly recommend Dr. Mueller.

Kristi A.



The doctor and the staff were friendly and helpful.

Aall W.



Sincerely appreciated the quick appointment and also the professional way I was attended. The friendly and helpful manner of your Employees made the visit very relaxing. Loved it and will definitely refer my friends and relatives to your Dental business. Thank you.

Vena J.



I would like to thank Dr. Mueller for his excellent work and generosity. I would also like to thank Jessica and Terrie for their professionalism and care, and also Ms. Barb for her bedside manner. -Kasim Wright

Shareka G.



Everyone is outstanding, knowledgeable, and friendly! One of the best dental experiences that I've had yet! Peace, A. LeDuc

Annette L.



Excellent experience with cleaning. Technician was skilled and thoughtful.

Arthur S.



Terri was very kind and helpful in getting me signed up for an appointment and I am very happy with the service so far. thank you so much!

Paul M.



The office is great and Terrie is a pleasure to speak with.

Yolanda H.



Terri H is a pleasure to speak with. Love personable experience she brings to the office

Monica J.



I love this office the staff is great especially Terrie

Terrie A.



I contacted Terrie for assistance with insurance issues and she was an awesome helper. Thank you.

LaToya C.



I recently switched dentist and I'm so glad I did. My teeth cleaning went very smoothly. Michelle did a great job and never once did I jump or grip the chair in pain. The same went for the small filling I had to get. I would recommend this dentist to anybody looking for a new or replacement dentist. Thank you Trey Mueller, Michelle and Staff.

Joey M.



The staff members were courteous, professional and friendly. Dr Mueller was very friendly as well. My overall experience was a pleasant one. Thanks Terrie for the referral!

Tammie A.